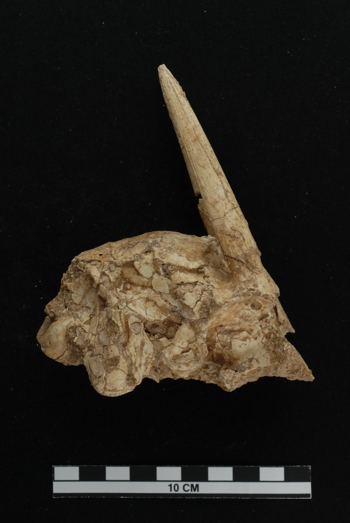 [Skull of an extinct gazelle, stored at Natural History Collection of Vrissa]

In 2008 I participated in a project to improve the visibility of the Museum on the web. I wrote the content pages (in English) for the website, designed the general lay-out, selected appropriate images and translated the collection database records into English and French. Visit the new homepage of the Museum. I also participated in the development of an educational DVD for the Museum for children.
Another digitalization project (2007) concerned the collection of the Natural History Collection at Vrissa, Lesvos (Greece), part of the Museum of Palaeontology and Geology of the National and Kapodistrian University of Athens. This project consisted of two parts: one, creating a database with relevant information and a digital image of all specimens of the collection and two, the design and development of a web portal. Fossils form the major part of the Vrissa collection. Minor parts are the minerals and rocks, the plants and the taxidermy specimens of birds and mammals. I was involved in both parts of the project. For the database, I organized the data, specified the required fields and translated the data into xml. For the website, I wrote the texts for the palaeontological section, including descriptions of the extinct animals and their evolution, both popular as well as scientific. Below are some examples from the database.